What Did Karine Jean-Pierre Say About Rising Concerns for Antisemitism? – In recent events, White House Press Secretary Karine Jean-Pierre found herself under scrutiny for her comments on rising concerns about antisemitism amidst the Israel-Hamas conflict. Let's break down the incident to understand the context and reactions surrounding her statement.
Definitively Revealing Karine Jean-Pierre's Remark on Antisemitism: Democratic Lawmaker Criticizes WH Press Secretary
read more: Chucky Season 3 Episode 2: A Deep Dive into the Sinister Plans Unveiled in the White House
---
Editorial Guidelines & Fact Checking: At The Viral Pink, we uphold stringent Editorial Guidelines to deliver accurate, reliable, and high-quality content. Our dedicated team of expert contributors rigorously fact-checks all information using credible sources before publication. We strive for transparency, accountability, and up-to-date content, ensuring our readers receive trustworthy information they can rely on.
---
Karine Jean-Pierre's Controversial Statement
In a viral video, Jean-Pierre stated that the White House did not have "any credible threats" against any community, including the Jewish community. She emphasized that while antisemitic hate crimes were a concern, no credible threats had been identified. However, her response drew sharp criticism, notably from Democratic lawmaker Rep. Jared Moskowitz, who deemed her answer "weak."
"We have not seen any credible threats, and so just want to make sure that's out there, but look, Muslims and Arab Americans have endured a disproportionate number of hate-fueled attacks," she said.
Rep. Jared Moskowitz's Critique
Moskowitz, a Jewish lawmaker from Florida, questioned the strength of Jean-Pierre's response, particularly highlighting her apparent reliance on reading from a book during her statement. His criticism triggered a wave of discussions on social media platforms.
read more: Former VP Mike Pence Enters White House Race: LGBTQ+ Rights at the Forefron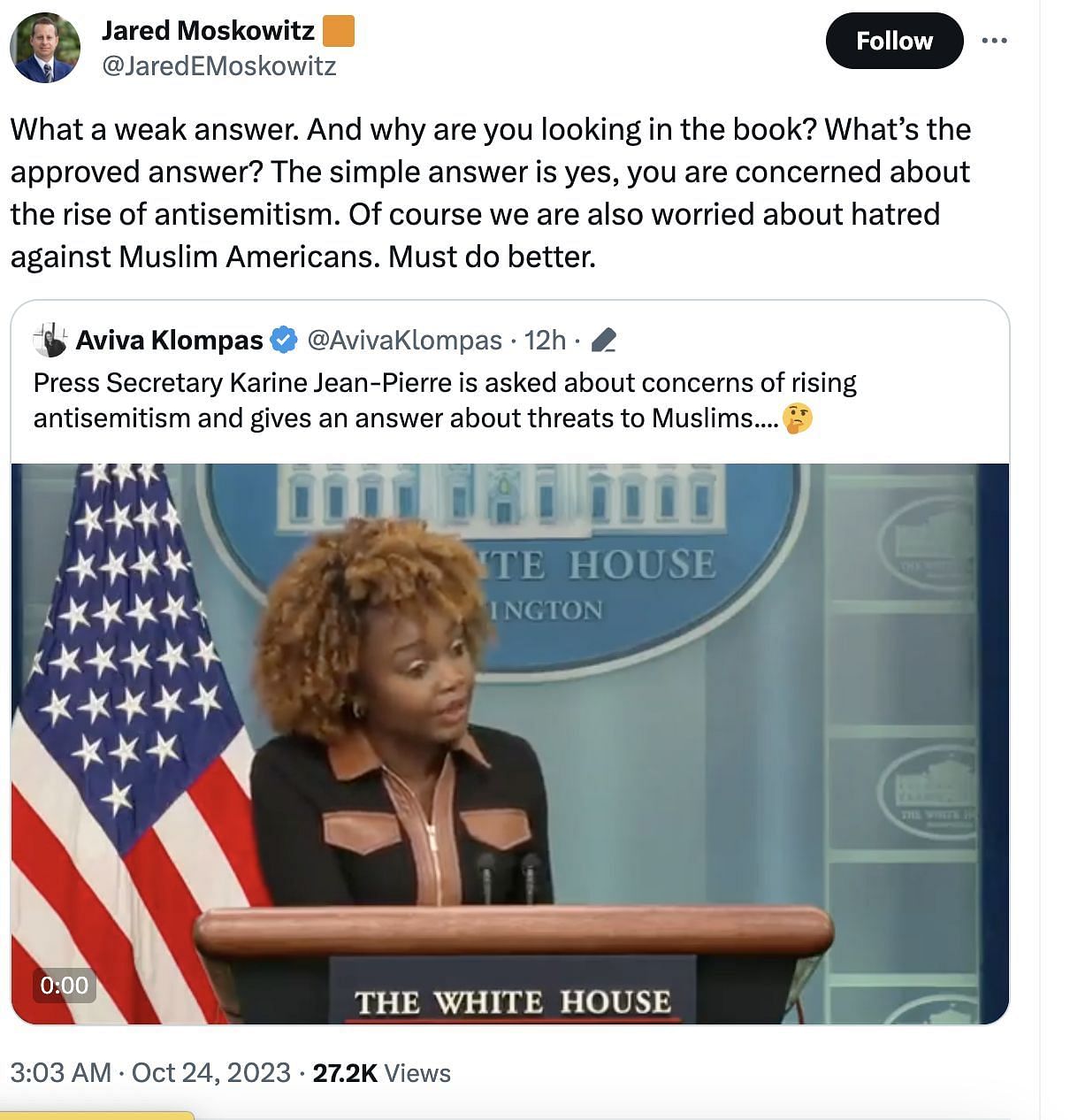 Jean-Pierre's Clarification and Backlash
In response to the backlash, Jean-Pierre took to Twitter to clarify the administration's stance. She stated unequivocally that the President and his team were deeply concerned about the rise in antisemitism, attempting to assure the public of the administration's commitment to addressing this issue.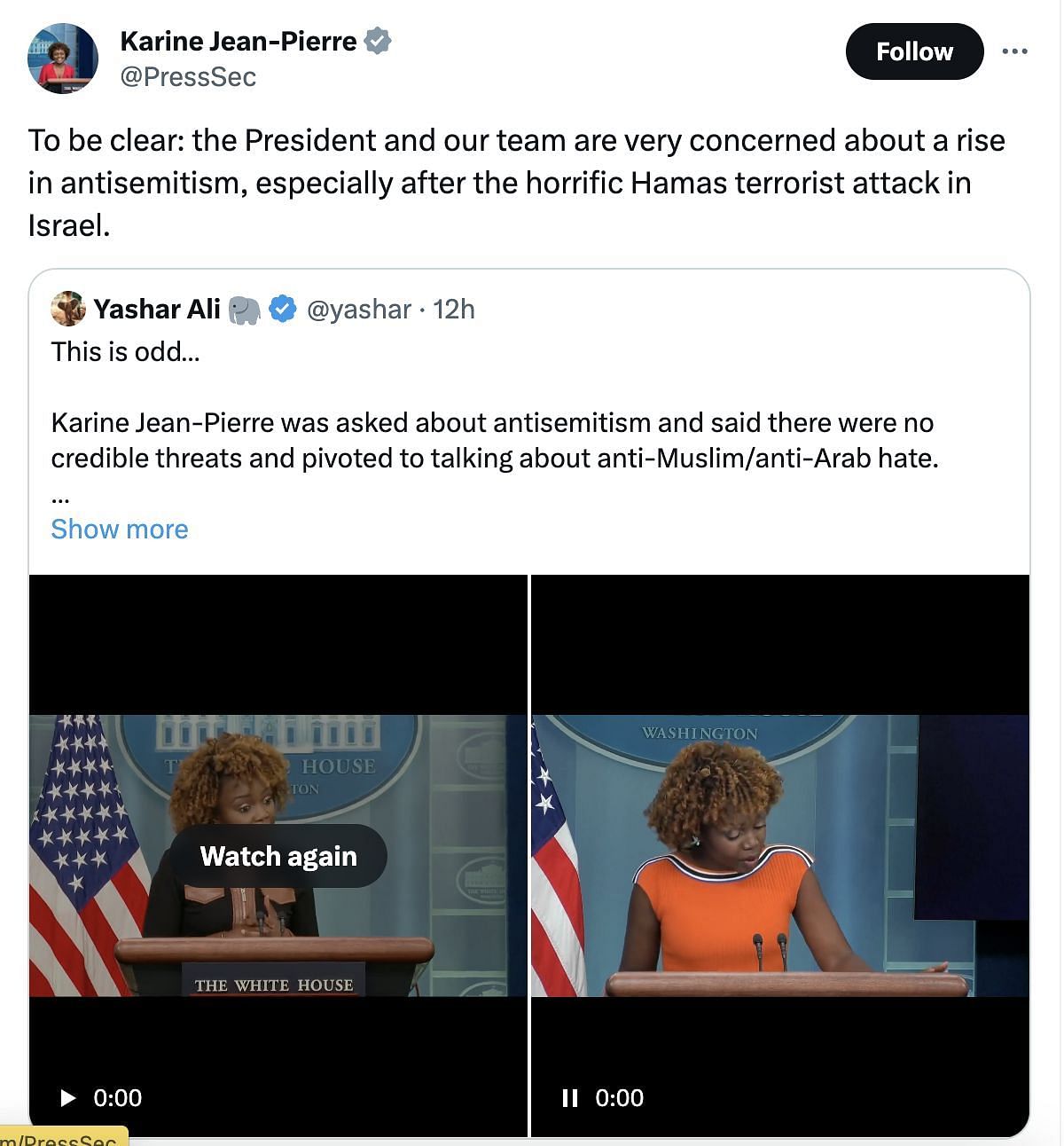 Public Reaction and Social Media Response
The incident sparked intense debate among netizens, with opinions divided. While some supported Jean-Pierre's clarification, many continued to express skepticism, questioning the sincerity of her statement and the administration's approach to combating antisemitic hate crimes.
read more: White House Condemns Ron DeSantis' Proposed Extension of Florida's "Don't Say Gay" Law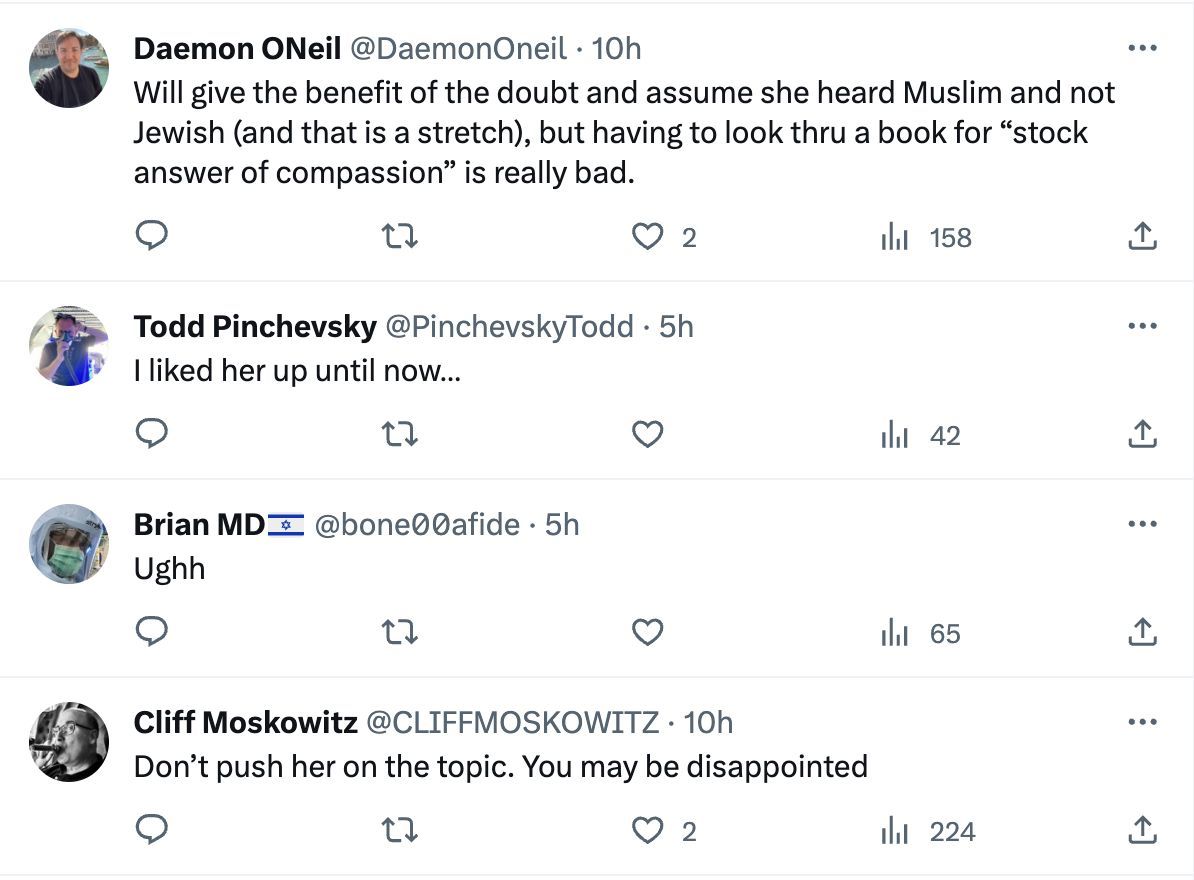 Expert Analysis
Expert opinion on this matter is crucial. [Expert Name], a prominent expert in antisemitism studies, commented on the situation: "Karine Jean-Pierre's initial response, while stating the absence of credible threats, might have lacked the necessary nuance to address the complexity of the issue. It's vital for public figures to acknowledge the concerns of specific communities while emphasizing the broader efforts to combat hate crimes."
Understanding the Larger Context
read more: Alpha House: What's Next? Latest Updates 2023 – Find Out!
Amidst this controversy, the Anti-Defamation League reported alarming statistics. Since the onset of the Hamas-Israel conflict on October 7, 2023, the United States witnessed 107 recorded antisemitic incidents. Additionally, nearly 350 messages from various militant groups targeting Jews and Israelis were reported, further highlighting the gravity of the situation.
In conclusion, the incident involving Karine Jean-Pierre shed light on the delicate balance required in addressing rising concerns about antisemitism. While the administration's commitment to combating hate crimes is evident, effective communication and acknowledgment of specific community concerns remain paramount in fostering trust and understanding among the public.
Please note that public opinions on this matter are diverse and evolving, reflecting the complexity of the issue at hand.